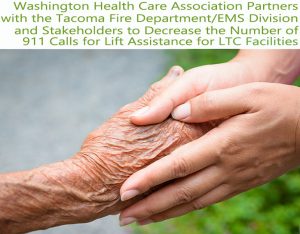 by Elena Madrid | Executive Vice President for Regulatory Affairs, Washington Health Care Association
The Washington Health Care Association (WHCA) is a statewide non-profit organization representing over 500 assisted living and skilled nursing facilities. WHCA's mission is to promote quality long term and post-acute health care and services, while serving as an advocate for providers, staff, and the patients and residents for whom they provide care. Association members provide health and personal care, social support and housing to 25,000 frail, elderly, or disabled Washingtonians each day. About 25,000 employees work for member facilities.
In February 2019, the Tacoma City Council passed Tacoma Ordinance 28550 in order to levy fines for skilled nursing and assisted living centers utilizing 911 personnel for non-emergency lift assistance. Under the new law, the commanding officer of an emergency response unit has the authority to determine whether a facility is utilizing 911 for a non-emergent lift assist. In those instances, the Fire Chief is authorized to issue a penalty charge of $350 for the first incident, $500 for the second incident, and $850 for each incident of non-emergent lift assistance thereafter. After January 1, 2020, the penalty assessed increased to $850 per incident without regard to the number of prior incidents. WHCA jumped on this issue and in conjunction with other stakeholders, worked aggressively to educate Tacoma EMS/911 personnel and assisted living/skilled nursing facilities.
Action taken by WHCA and other committed stakeholders, including the Department of Social and Health Services and LeadingAge WA, included free education to skilled nursing and assisted living facility providers and staff, as well as educating Tacoma Fire Department and EMS regarding the training and staffing requirements of assisted living facilities versus skilled nursing facilities.
Initial training included the following:
Non-Emergent Lift Assistance Ordinance

Overview of 911 Services

NOT all aid calls are 911 appropriate calls

Resources for non-emergent transports

Resources providing non-emergent evaluation and treatment for your residents

Differences in staffing, training, education requirements of skilled nursing facilities, assisted living facilities, and independent retirement apartments which are often co-located within assisted living communities.

The different levels of care and acuity provided by assisted living communities

Licensing, oversight, and complaint investigation processes for skilled nursing and assisted living facilities.
A second training was held with Tacoma area long term care facilities. Carolyn Hamm, an Older Adults Fall Prevention specialist with the Department of Health, was a guest speaker.  The Department of Health has identified falls as a public health threat. Falls are the leading cause of injury-related death and hospitalization among adults age 65+. Although falls are common, they are not a normal part of aging and most falls can be prevented. Falls remain a challenge for long term care communities and are often the precursor to a 911 call for lift assistance or emergency transfer. The training session was designed to further appropriate use of 911 services by focusing on fall prevention strategies for older adults. 
With emphasis on training and education, the instances of non-emergency use of 911 services in Tacoma have been mitigated. To date, only six fines have been issued to four assisted living facilities,all of which occurred in the first six months of the ordinance implementation. This number is far below the Tacoma City's estimated budget intake for this issue. WHCA continues to work directly with Tacoma EMS and stakeholders to monitor this issue and ensure that further action is taken if warranted. Our goal is to prevent unwarranted use of 911 for non-emergent calls, to prevent resident falls and associated injuries, and support our long term care communities to receive the needed EMS services when warranted without undue fines. By doing so, the safety of the vulnerable adults being served in our long term care communities remains at the forefront.
For more information regarding Assisted Living and Skilled Nursing Facility requirements, visit the Washington Health Care Association website or contact Elena Madrid, Executive Vice President for Regulatory Affairs via email or call (360) 352-3304, ext. 105.
ABOUT THE AUTHOR:
Elena Madrid supports WHCA members by providing answers and insight to regulatory questions and expectations. Elena's long and focused background in survey and enforcement as a surveyor and field manager for DSHS provide her with extensive knowledge and insight on regulatory compliance, the survey process, and policies and procedures. Elena also provides support, resources, and training regarding quality. As staff liaison to the Skilled Nursing Facility Quality and Regulatory Executive Advisory Committee for WHCA, Elena works with members to promote quality care and services at every level. At DSHS Residential Care Services where she was a field manager with oversight of assisted living and skilled nursing communities,