PCI Bleeding Reduction Initiative
In October 2021, FHCQ launched COAP's PCI Bleeding Reduction Initiative, a regional quality improvement initiative aimed at reducing intra- and post-procedural bleeding events in PCI.
Why do we need a regional initiative? While bleeding rates have somewhat decreased over the last few years, both across our region and across the country, risk adjusted bleeding rates are still higher amongst COAP hospitals than the national average. In 2020, the average COAP risk adjusted bleeding rate was 3.8%, compared with 2.2% nationally. Transfusions within 72 hours of PCI were 1.2% for COAP, compared to 0.7% nationally.
Why do we care? Evidence has shown that patients who experience a major bleeding event are three times more likely to die following PCI. Bleeding is also associated with higher costs of care.
Can we do better? Yes. Significant variation in bleeding rates between hospitals and amongst physicians indicate that we have room to improve. Hospital bleeding rates range from 0% – 6.5%; PCI Operator rates range from 0% – over 10% with no correlation to expected bleeding rates. There are evidence-based strategies to reduce bleeding risk, with variation in the use of these prevention strategies at both the hospital and physician levels.
What are the goals of COAP PCI Bleeding Reduction Initiative?
Promote bleeding reduction best practices

Increase rates of radial access for STEMI by 10% within 1 year
Decrease routine use of GP llb/llla inhibitors by 5% within 1 year

Reduce overall bleeding and transfusion rates

Decrease rates of risk adjusted post-PCI bleeding by 10% within 1 year and 25% within 3 years
Decrease post-PCI transfusion (within 72 hours) by 5% within 1 year

Develop collaborative relationships between COAP hospitals and health systems
What can I/we do? All physicians with 10 or more PCIs in 2020 were sent reports showing their individual data for key bleeding metrics. Physicians were also sent regional data and evidence-based strategies for reducing bleeding risk. Our hope is that physicians, together with data and quality teams at each COAP hospital, will use this data and best practice information to assess current practices and identify areas for focused improvement. COAP will continue to track bleeding metrics and create opportunities to discuss and share best practice in 2022. Please stay tuned—and reach out to us with any questions, ideas, or comments. The best practice tool is available here.
Patient Blood Management in Cardiac Surgery
COAP has a strong track record of supporting member hospitals in reducing blood use in adult cardiac surgery. Washington state boasts the lowest blood use rates in the nation thanks to more than ten years of focused efforts around data collection, reporting, and facilitating collaborations that share expertise and best practices in blood management across the region. Yet even with this success, there is still considerable variation in blood use among our region's cardiac surgery sites, and room for improvement.
The benefits to patients of reducing blood use and implementing patient blood management standards of care have been well researched and documented over the past twenty years. These benefits include reductions in: pulmonary complications, infections, chronic disease morbidities exacerbation, adverse surgical outcomes associated with preoperative anemia and/or iron deficiency, hospital length of stay, hospital readmissions, and cost of care. 
In 2017, COAP partnered with the Washington State Hospital Association (WSHA) to become the first state in the nation to implement patient blood  management (PBM) standards of care in cardiac surgery. Eleven of Washington State's sixteen cardiac surgery centers participated in the PBM Initiative: Central Washington Hospital, St. Michael Medical Center (formerly Harrison), Overlake Hospital, Providence Regional Medical Center Everett, Providence Sacred Heart, Southwest Hospital, St. Joseph Medical Center Tacoma, Swedish Health Services, Tacoma General, University of Washington Medical Center, and Virginia Mason Hospital. All sites participated in a gap analysis to identify current practices and areas for improvement; several made significant gains in reducing blood use in cardiac surgery. (See below) While the COAP/WSHA partnership has ended, COAP continues to analyze and report blood use data for all cardiac surgeries and offers PBM best practice opportunities for cardiac surgery sites. A comprehensive PBM best practice tool is available here.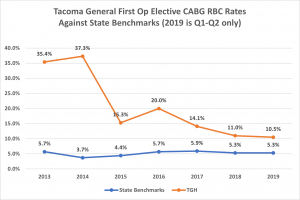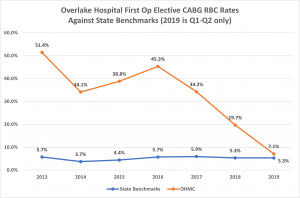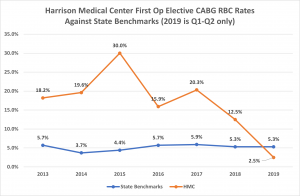 Moving the Needle Campaign
The goal of this Foundation-wide campaign is to encourage collaboration across the diverse spectrum of providers providing peri-operative patient care as a way to address our ongoing challenges with opioid prescribing.
There has been intense focus on decreasing opioid related deaths. While significant overall progress has been made, we believe that bringing focused attention to peri-operative opioid prescribing practices will further move the needle.
Enhanced Recovery After Surgery (ERAS): COAP is Moving the Needle in opioid use across our region through the development and promotion of ERAS protocols for cardiac surgery. We have formed an ERAS Work Group, made up of cardiovascular surgeons, anesthesiologists, cardiologists and other clinicians, to assess current perioperative practices in Washington State, review the literature, and develop standard ERAS protocols that support our cardiac patients. We began with a pain management protocol, focusing on opioid-sparing multi-modal analgesics, and then moved to nutrition protocols. Evidence suggests a strong link between perioperative nutrition and pain management. You can find the COAP protocols here: COAP ERAS Pain Management Protocol; COAP ERAS Nutrition Protocol. The COAP ERAS Work Group continues to develop new protocols specific to cardiovascular surgery. If you would like to help in these efforts, please contact us today.